Ferrari blaming Verstappen for crashing their F1 cars has led to a brutal remark from ex-Red Bull driver, Mark Webber.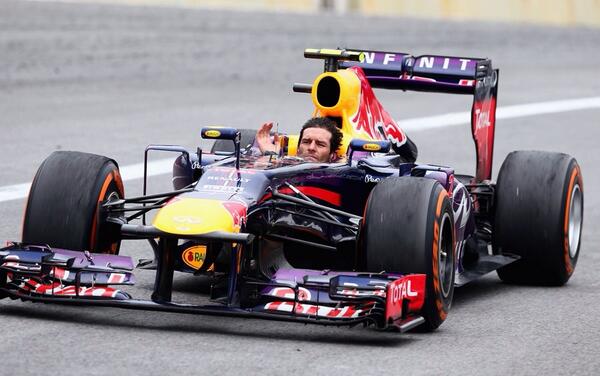 The first wet Formula One Singapore Grand Prix in history started with a bang. Max Verstappen's Red Bull car became the filling in a messy Ferrari sandwich at the start of Sunday's race.
Whoever handled Ferrari's twitter account tried to place the blame on Max only to get put right in his place by ex-Red Bull F1 driver Mark Webber.
Ferrari driver Kimi Räikkönen collided with Max Verstappen on the start as he tried to pass the Red Bull around the outside at the very beginning.
This sent the front end of Räikkönen's Ferrari into Ferrari teammate Sebastian Vettel's car. Fernando Alonso's McLaren also got caught up in the mess, the damage from which forced him to retire later in the race a few laps later.
The collision extensively damaged Vettel's car. Vettel crashed a couple turns after the crash as he was trying to limp his car back to the pits, forcing him to retire from the race along with Verstappen and Räikkönen.
This crash squashed Vettel's hopes of taking back the drivers' championship lead from Mercedes driver Lewis Hamilton this weekend. Hamilton went on to win the race, stretching his championship lead to 28 points over Vettel.
The stewards consider that no driver was found to have been wholly or predominantly to blame for the incident, and will therefore take no further action.
There's no doubt that anyone who's rooting for Vettel would be disappointed by the crash. However, the PR wonk manning Ferrari's Twitter took it one step further with a ridiculous assignment of blame on the Not Ferrari involved after the race.Ferrari is an Italian sports car manufacturer based in Maranello.
Founded by Enzo Ferrari in 1939 out of Alfa Romeo's race division as Auto Avio Costruzioni, the company built its first car in 1940.